Top 10 Tips to Avoid a Cybersecurity Headache
Posted On: October 25, 2019 by Farmers & Merchants Bank & Trust in: Cyber Security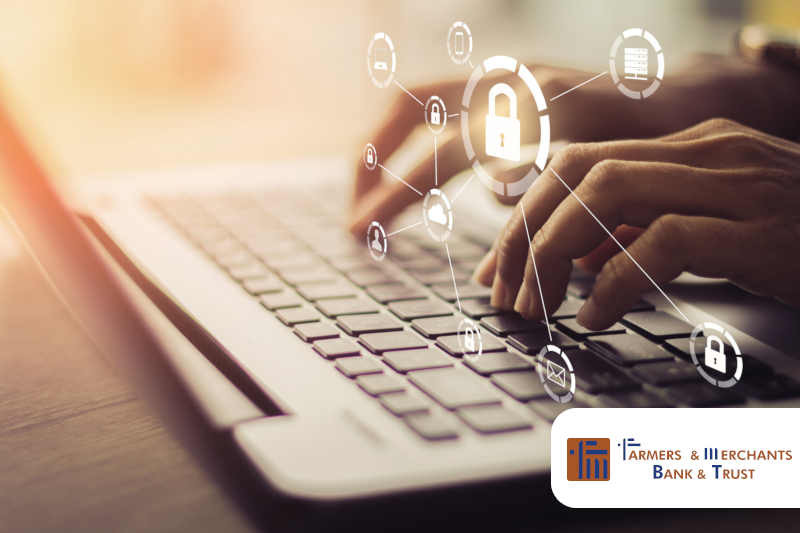 October is Cybersecurity Awareness Month. Cyber fraud is constantly on the rise, and hackers are always evolving their tactics. Putting these 10 habits into place can help you remain one step ahead of the bad guys:
1. Create strong passwords and use a password manager
A long password is better than an overly complex password. Try to create unique passwords for all of your logins and change them periodically. Of course, the more passwords you have and the more often you change them, the harder they are to remember. Instead of writing them down or storing them in an unprotected file on your computer, use a password manager.
2. Enable multi-factor authentication wherever you can
Now that you have a strong unique password for each of your logins, double up on the security by enabling multi-factor authentication if it's available. Multi-factor authentication, or MFA, offers increased protection from threats by requiring a second layer of authentication, such as a text message to your cell phone, before permitting access to your data. Not all sites will offer MFA, but if they do, use it!
3. Update your software, operating system, and virus protection
Attackers know about weaknesses in operating systems and other applications, and will exploit them if you don't patch up those holes. Be sure to install all updates to your operating system and applications, including Java and Adobe, in a timely manner. And don't ignore the messages that your antivirus subscription is expiring or in need of an update. Just like your operating system, antivirus protection that is not updated regularly can leave you vulnerable to attacks. Set it up to automatically renew and update.
4. Be wary of free Wi-Fi
While free Wi-Fi is a convenience we all appreciate when we are out and about, it doesn't come without some added risk. Hackers can easily monitor or capture traffic flowing over a public wireless network. If you do connect to free public Wi-fi, do not use it to check bank accounts or other sensitive data and be sure to have your device "forget" the network when you are done.
5. Watch out for phishing
Phishing occurs when a fraudster sends an email purporting to be from a reputable company to trick you into clicking a link, downloading an attachment, or providing personal information like passwords and usernames. Never click a link or download a file from an email you were not expecting. Carefully inspect the "from" address and hover your mouse over the link to see where it will actually take you. Look out for misspellings in domain names. Or better yet, contact the sender by phone at a number found on their website or previous communication to verify the legitimacy of the email. DON'T call the number in the email as this will only connect you with the fraudster!
6. Practice safe surfing
Use the same tactics you use to spot phishing emails when you browse the web. Hover over links to see where they will take you before you click. Never enter personal information, including bank account and credit card numbers, on websites that do not start with https:/. Lots of pop up ads is usually a sign of a bad website.
7. Back up your data on a regular basis
Backing up your data does not necessarily help you avoid a cybersecurity problem, but it does help you to recover from one if you are ever a victim. Back up your important information to the cloud or an external hard drive on a regular basis, and you will limit the damage if your computer is overtaken by ransomware.
8. Monitor your credit report
Review your credit report as frequently as possible to watch for unauthorized accounts. Everyone is permitted one free credit report each year from each of the three major credit bureaus. Visit www.annualcreditreport.com for your free copy. Consider running one bureau every four months to keep a close eye on your report.
9. Review your credit card and bank statements regularly
Once you've reviewed your credit report for unauthorized new accounts in your name, then it's time to check for unauthorized activity on your existing bank and credit card accounts. Review your statements at least monthly. Or better yet, enroll in Online Banking so you can review your accounts daily. Report any unfamiliar charges to your bank or credit card company immediately.
10.Don't forget physical security
Never leave your mobile devices unattended in public. When traveling by air, keep your laptop in your carry-on rather than your checked bag. Consider a post office box to prevent stolen mail with sensitive information. Or better yet, enroll in eStatements so your bank account statements can be delivered securely through Online Banking.
Have any tips that we missed? Leave them in comments below!