eBanking Services for Businesses
Manage Your Business Finances More Efficiently
Are you spending too much time managing your accounts and cash flow using outdated tools? Do you wish you had more capabilities when managing your business finances?
Our suite of eBanking services are ideal for businesses of any size and type. The focus of services like Business Online Banking, Deposit Advantage and Merchant Services is:
To give you whatever capabilities you need to best manage your finances
Streamline various aspects of your business to give you back time
Help you provide more convenience and better service to your customers

Business Online Banking
Access your FMBT business accounts whenever you want with Business Online Banking! This comprehensive online tool gives you the power to do more than just check account balances:
Pay one-time and recurring bills digitally with the Bill Pay feature. No checks, no stamps, no problem!
Control employee access to accounts and transactions with robust administrative tools.
Manage outstanding checks with real-time stop payments. No need to wait for banking hours to take care of business!
Go digital with your bank statements with eStatements. No more paper statements cluttering up file cabinets!
Access your business accounts on the go with FMBT Business Mobile Banking
Start getting the most out of your business accounts with Business Online Banking by getting in touch with a Relationship Banker today.
Business Mobile Banking
Take your FMBT business accounts with you! Business Mobile Banking gives you many of the powerful features of Business Online Banking in the palm of your hand! Whether you're at work, at an event or relaxing at home, Business Mobile Banking is there whenever you need it.
View balances and account history
Transfer between accounts
Make payments to billers
Approve transactions
To make running your business even more convenient with Business Mobile Banking, get in touch with a Relationship Banker today.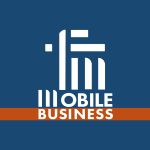 Deposit Advantage - Remote Deposit Capture
Why continue to waste time and money by taking deposits to the bank yourself? Deposit Advantage gives you back lost time while digitizing your deposits for simpler account management. How?
We help you set up the software and scanner
When you need to deposit business checks, simply scan checks right there at your office (or even across multiple locations!)
Your funds get deposited into your checking account
You receive digital copies of the checks for secure electronic storage
Gain time and efficiency by getting in touch with a Relationship Banker today to get started with Deposit Advantage.
Merchant Services
We've partnered with First Data to make it easier for your customers to do business with you. By tailoring your service suite to your specific business, we ensure you have what you need to manage your cash flow as quickly and easily as possible.
Our service offerings include:
Transaction Processing Equipment
Credit and Debit Cards
Gift, Loyalty, and Rewards Cards
Petroleum and Fleet Cards
Electronic Check and Check Services
NPC Secure and NPC Mobile
To increase convenience for your customers and yourself, get in touch with a Relationship Banker today.