Finance Tips for Soon-To-Be Newlyweds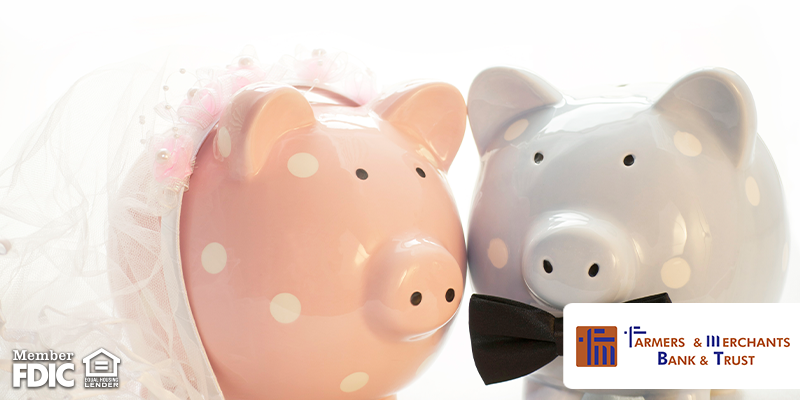 Whether you're getting married in the next few weeks or in the coming years, this exciting time of your life comes with serious things to think about and discuss. How you manage money will change once you get married, so planning it out beforehand is a must. Here are some tips for you and your partner before you say "I Do".
Talk about your debt
Honesty is key in a relationship, which means it's time to be honest about what debt you have. Whether you have student loans, a car loan, credit card debt or something else, knowing how much there is left to pay is important before planning your budget. This might not be the most fun conversation to have, but it's much better to have before the wedding than after.
Discuss your financial past
How your family handled money when you grew up can play a part in how you deal with finances when you're older. It's always a good idea to hear where your partner or spouse is coming from to get a better understanding of why they do things a certain way when it comes to their finances. Then together you can decide you will handle money as a married couple.
Plan a new budget
Once you get married, your individual budgets become one. Figuring out a monthly household budget is important so you're on the same page. A good place to start is listing all of your income and monthly expenses, then deciding which bills aren't necessary. For example, maybe unlimited data on your cell phone plan is not necessary if you're connected to wifi most of the time. Be sure to include a cushion for the unexpected car repair or medical bill, as well as some "fun" money for each of you to spend however you wish. Knowing what your budget is will help both of you avoid overspending.
Decide on a bank account option
Something to consider is whether you plan on having a separate or joint bank account. There are pros and cons to each, and each couple needs to decide what works best for them. Once you decide which to go with, go over the cons of that choice and make a plan on how to handle issues that may arise in the future. For example, if you choose separate bank accounts, you'll have to decide how to handle separating bills. On the other hand, with a joint bank account, you will need to coordinate your spending to avoid overdrafts.
Think about retirement
Retirement might seem far away, but it's something that will play a big role in your life together. Maximize the benefit of compound interest by starting to save sooner than later, even if it's a small amount per month to start with. If you can, have your employer automatically deduct it from your paycheck so you never even miss it.
Keep the conversation going
Continue talking about finances after you get married – conversations about money are important in every phase of life. Keep the financial talks going so you stay on the same page.
Congratulations on your engagement! We wish you and your spouse the best and hope these financial tips can be beneficial to your relationship.