FMBT Wins Best Bank in the Community!
Posted On: July 13, 2023 by Farmers & Merchants Bank & Trust in: Community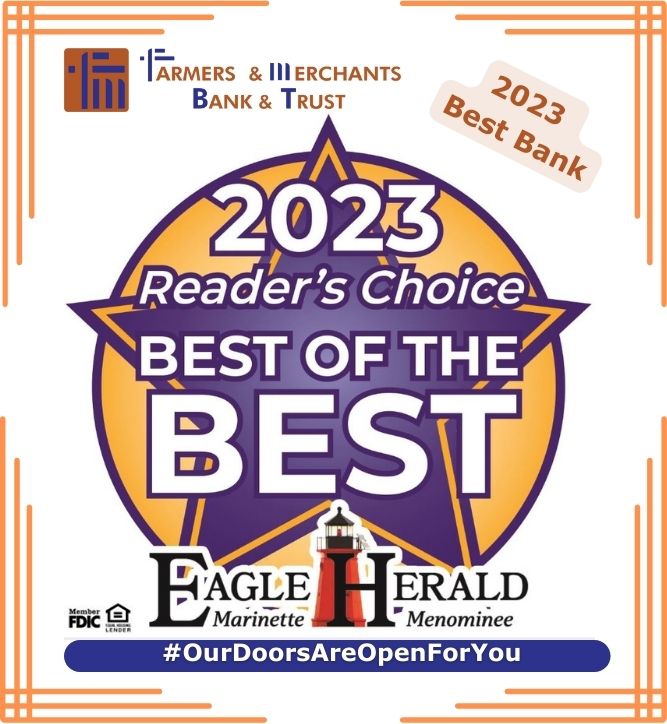 The Eagle Herald's 2023 Reader's Choice Best of the Best Awards are awards given to celebrate and recognize the BEST our community has to offer. Nominations began May 1st and ran through May 12th, allowing only the top businesses in each category to be entered in to the final voting stage. On June 5th the official voting began and went until June 23rd. We are thrilled to share the exciting news that Farmers & Merchants Bank & Trust (FMBT) has been crowned the Best Bank in our community! This remarkable achievement marks a significant milestone for us and underscores the invaluable trust and support of our customers.
For years, FMBT has strived to create a banking experience that goes beyond mere transactions. Our commitment has always been to put our customers at the heart of everything we do, and winning this award is a testament to the strong relationships we have built.
We extend our deepest gratitude to the community for voting FMBT as the Best Bank. Your votes and confidence in us reaffirm our dedication to providing exceptional services and tailored solutions that meet your financial needs. We are truly humbled by your overwhelming support.
At FMBT, we believe in the power of personalized attention. We take pride in our open-door policy, welcoming customers with a warm smile and a genuine desire to assist them in achieving their financial goals. Being recognized as the Best Bank in the community validates our customer-centric approach and encourages us to continue delivering innovative solutions that make a positive difference in your lives.
This victory belongs to each member of the FMBT family, from our dedicated staff to our loyal customers. It is a shared achievement that highlights the unwavering commitment and hard work of everyone involved. We are grateful for our exceptional team, whose expertise and dedication have contributed immensely to our success.
As we celebrate this momentous occasion, we are more motivated than ever to continue exceeding your expectations. We remain focused on providing a banking experience that is convenient, reliable, and tailored to your individual needs. Our promise to you is to continuously innovate and adapt to the ever-changing financial landscape, ensuring that you have access to the tools and resources necessary for your financial well-being.
Thank you, once again, for voting FMBT as the Best Bank in our community. We are honored to be your trusted financial partner, and we are excited about the opportunities that lie ahead. Together, let us forge a path towards a brighter and more prosperous future.
-The FMBT Team