Cybersecurity for Beginners
Posted On: August 26, 2019 by Farmers & Merchants Bank & Trust in: Cyber Security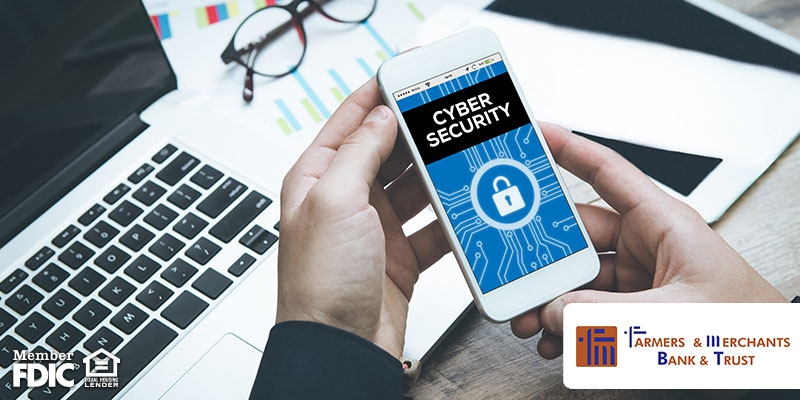 Let's get back to the basics! Cybersecurity is important for everyone, no matter if you use the internet on a daily basis or just once in a while. If you've never considered the best security tactics for the cyber world, hold on tight as we run through seven pillars of cybersecurity.
What is cybersecurity?
Cybersecurity is the act or process of protecting devices, networks and programs from theft or damage. Everyone has something to lose, whether it be their identity, money or hardware. Cybercrime can happen to anyone and it's important to be prepared.
Start With the Physical
Just because we are talking cyberspace, doesn't mean your should neglect protecting your physical space. Keep all of your devices secured with password protection, so that in the case your device is taken, they will not be able to crack into your sensitive documents. Be cautious about what flash drives or hard drives you plug into your computer. Unknown ones may be infected with malware seeking to steal your information. This also means your devices should never be left without your supervision.
Create a Tight Password
The first line of defense against a cybercriminal is your password. It's tempting for many to choose something that is short and easy to remember. However, your password should be complicated enough to keep a hacker out. It's suggested to use a sentence for a password. For example, instead of choosing your pet's name as a password, create a sentence about your animal. It could be something like, "Mydogspotlikestonap." Get creative!
Avoid Public Wi-Fi
While we believe it's fantastic to make use of our public libraries and coffee shops, using public Wi-Fi can put you at risk. However, there are two types of public Wi-Fi and one is safer than the other. Unsecured networks often don't require a password or any login information. A secured network will require that you create an account in order to access the service. While less convenient, this is a safer option. However, if you do choose to use an unsecured network, do not access your bank accounts or any personal information, as the line can be easily hacked.
Be Social Conscious
Social media is a great tool to stay connected with friends and family. However, be sure that you are not posting sensitive information about your identity such as your birthdate and current location. It's also important to keep your settings private so only your close friends have access to the account.
Welcome Updates
Updates may seem tedious, but they keep your device secure by patching any areas that are prone to hacking. Take the time to install them or you may regret it later.
Be Suspicious
Whether it's an unsolicited advertisement or an email from an unknown source, always be suspicious of anyone asking for your personal information or money online. It's often a best course of action to not interact with any unknown sources.
Stay safe and secure by utilizing these cybersecurity tips! You can also enroll in Online and Mobile Banking with us – so you can securely check your finances between statements.
Want more cybersecurity tips? Visit our Fraud & Identity Theft Resources page to learn more.